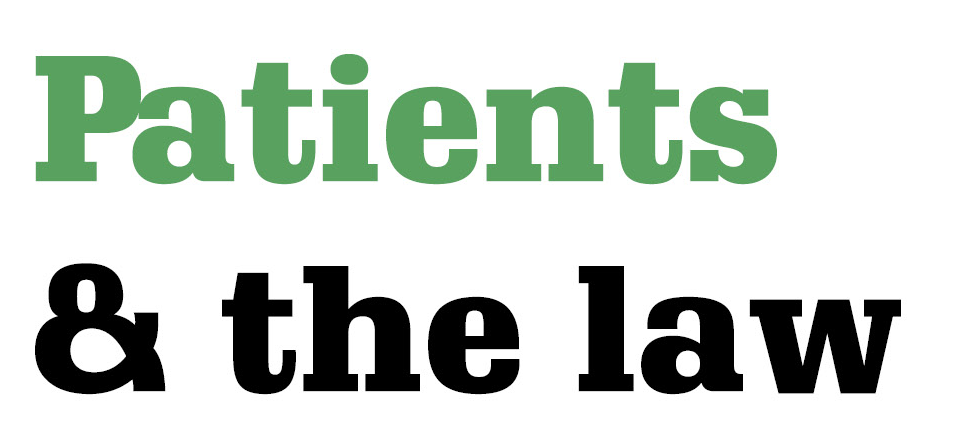 New Zealand patients need safe legal access to affordable, high quality, medicinal cannabis. Good news, after years of lobbying by NORML and others, the Government has passed a law to do this.
The new law, which has now taken effect, does these things:
allows any doctor to prescribe any cannabis product approved under the scheme as meeting the "Minimum Quality Standard", to any patient, for any reason;
removes CBD from the Misuse of Drugs Act so it is no longer a controlled drug (providing it meets the definition of a CBD Product);
creates a statutory defence for patients undergoing palliative care to use, possess and obtain illicit cannabis for medicinal purposes; and
allows local cultivation, manufacture and export of medicinal cannabis products, including dried flower (bud).
Find out more:

---
---
Read or download NORML's medicinal cannabis leaflet: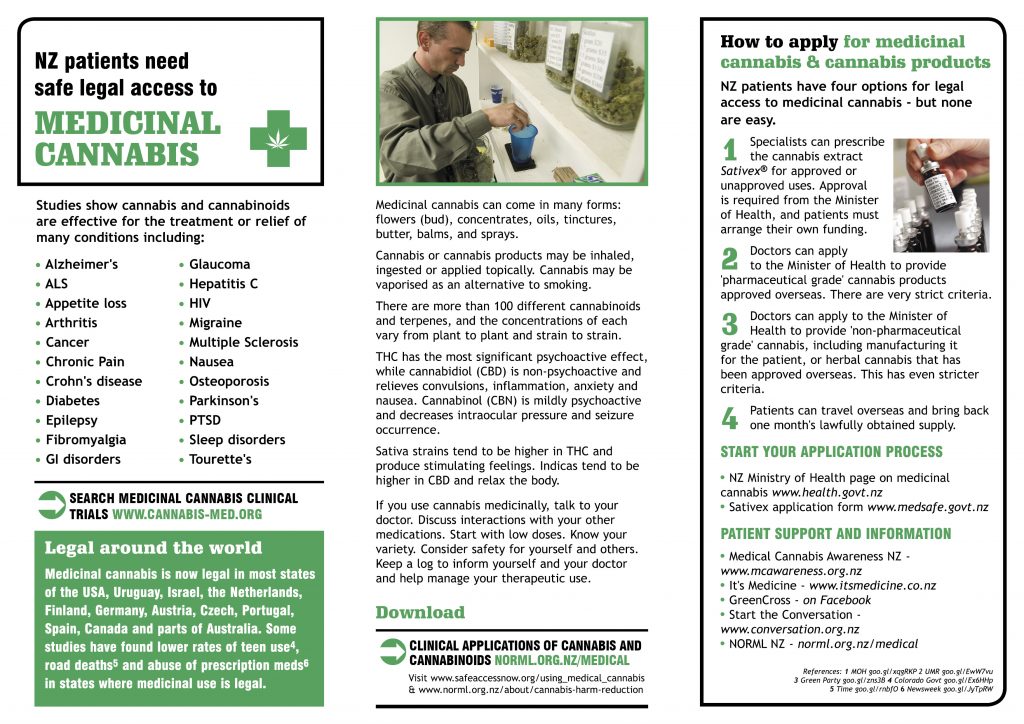 About medicinal cannabis
Modern research suggests that cannabis is a valuable aid in the treatment of a wide range of clinical applications. These include pain relief — particularly of neuropathic pain (pain from nerve damage) — nausea, spasticity, glaucoma, and movement disorders. Cannabis is also a powerful appetite stimulant, specifically for patients suffering from HIV, the AIDS wasting syndrome, or dementia. Emerging research suggests that cannabinoids found in cannabis may protect the body against some types of malignant tumors and are neuroprotective. Currently, more than 60 international health organizations support granting patients immediate legal access to medicinal cannabis under a doctor's supervision.
Herbal cannabis, THC and CBD products are now available on prescription from your doctor
From Sept 2017 the non-psychoactive but medically useful cannabinoid, CBD, was made available on prescription with no approval required from the Ministry of Health.
From April 2020 the full scheme took effect, allowing THC and herbal cannabis products in addition to CBD Products.
There are now several varieties of herbal cannabis flower (bud) available on prescription, including high THC varieties, CBD flower, and balanced strains. There are also more oils and other products now available.
However these products are not treated as regular medicines, but as unapproved products, therefore your GP would be prescribing an unapproved product. The process is actually quite simple, especially if they have done it before. However some doctors will not consider doing this. Talk to your doctor or specialist, or go see a cannabis specialist doctor.
Medicinal cannabis products are also not usually funded by Pharmac (they can make a special case for individual patients, but this process is very difficult and we understand only a few have been successful). Patients can seek coverage from ACC if they are eligible, or their private medical insurance if they have it. WINZ may cover consultation fees for low income patients, but not the cost of the medicine itself.
Aside from that, access to medicinal cannabis is often based on income and is therefore an equity issue; those who can afford it will get legal access, while everyone else must stay in the illicit (uncontrolled and untested) market or risk growing their own.
For more information see:
The cannabis extract Sativex is also available if you can afford it
The UK-made cannabis extract Sativex is also available on prescription from your GP or specialist. Funding remains an issue although special Ministerial approval is no longer required.
The Minister of Health had approved several applications since October 2008 to import and use the UK-made cannabis extract Sativex. which had followed a petition organised by NORML and the debate surrounding the Green Party's 2006 medicinal cannabis law reform bill. Health authorities conceded that cannabis does have therapeutic properties and is a valid medicine.
In 2011 New Zealand's medicines regulatory agency Medsafe gazetted Sativex as an approved medicine in New Zealand. This means patients can now go to their regular GP for a prescription, rather than needing an additional specialist. There was still some red tape, but less of it. This was fairly good news for patients.
As part of changes introducing the Medicinal Cannabis Scheme, Sativex was designated as no longer requiring special Ministerial approval. It can be prescribed by any doctor, using their controlled drugs form.
For more information see:
Medicinal cannabis overseas
The medicinal use of cannabis is legal in 36 states of the USA including California and Washington DC, the Netherlands, Germany, Spain, UK, Canada, Israel, Brazil, Thailand and Australia.
Research shows allowing medicinal cannabis will not effect overall use rates or teenager's attitudes towards drug use. In fact, research shows medicinal cannabis law reform in the USA is associated with reduced teen use rates as well as reduced road deaths.
For more information, see: